---
Posted on Apr 10, 2013
---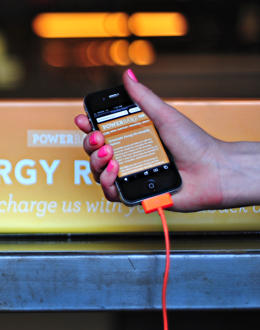 ---
Imagine walking around town, navigating with the map application on your phone. After using the phone to research a local historical site, you realise it is almost out of battery. You are expecting an important call from an old friend. You forgot your charging cable. Wifi is available at every coffee shop you pass but without a charge that isn't going to do you much good. In the window of the next cafe you pass is a PowerBarr sign in the window, that invites you in for a free solar powered charge. You grab a large coffee and an organic muffin and spend the next twenty minutes on the phone with your best friend, all the while getting your phone re-charged for free.
PowerBarr allows you to charge your phone or tablet using solar energy, without having to plug into the wall. Simply plug into the USB port and charge up anytime. Each PowerBarr consists of a solar panel that generates renewable energy and stores it in a battery. You can use the provided cables for your device, or connect your own cable by plugging it straight into the USB ports.
PowerBarr enables the use of renewable, decentralized energy. It's a simple concept with tremendous opportunity to change the way we use energy. It just makes sense to have PowerBarr's just about anywhere. Starting with coffee shops and public places like airports, the entrepreneurs behind PowerBarr plan to provide you with a convenient and easy way to charge up your devices wherever you go.
With more than two years of R&D behind PowerBarr, the backbone of the technology is the high efficiency console, an integrated approach that is as simple as a solar calculator but on a bigger scale. There is no other solar charging station quite like the PowerBarr, even at this early inception phase of the Beta version. Simply drop in a PowerBarr that fits in the window area and you've got a free charging station, simple as that.
PowerBarr is for business and home owners that want to start using solar power today. People love the idea of solar but all too often it is too expensive or inconvenient. PowerBarr empowers you to use solar power to charge mobile devices such as phones and tablets. Powered entirely by sunlight and designed for shared use in coffee shops, community centers, office space, airports/transportation hubs, and even public spaces, the PowerBarr gives everyone a simple and affordable way to use renewable energy.
How long does it take to charge up my phone or tablet? The same time as it would on a wall charger or connected to your computer (it depends upon the size of the battery in your device). Does the PowerBarr work at night when the sun is not shining? Yes, PowerBarr has a built in battery that is able to store solar energy during the day so that you can charge your devices for weeks even if the sun doesn't shine at all. Will it work with my phone or tablet? Most devices now support a USB power connection (just like when you connect it to your computer). As long as your device has a USB cable then it should be able to charge up.
PowerBarr is currently available at Cafe BeLong at Evergreen Brick Works. New locations are coming soon. With your help, and the power of a social crowd source funding campaign the folks at PowerBarr plant to expand to 4-5 locations in the Greater Toronto and Kitchener-Waterloo area. In addition, with additional funding, they plan to produce different sizes of the PowerBarr within the next few months and test these to learn which product is best and most liked. For more information on the product, where to try it out, and to help with the funding campaign click here.
For more information about PowerBarr and the Startup Event on April 15, 7pm, please see the web site at http://powerbarr.com.
---