---
Posted on Dec 4, 2013
---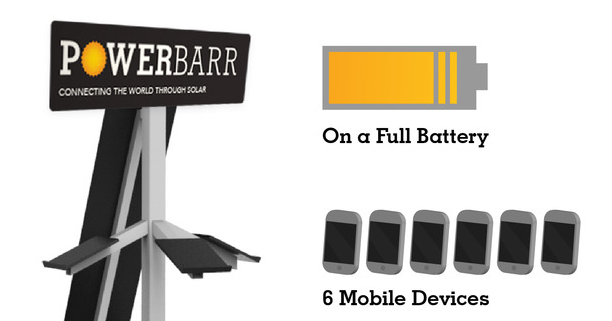 ---
With more than two years of R&D, the backbone of PowerBarr's technology is the high efficiency console, an integrated approach that is as simple as a solar calculator but on a bigger scale. Join the renewable energy revolution today and start charging your mobile devices faster with solar power that can go seven days non-stop even if the sun isn't shining! Each PowerBarr has the potential to take one of the fastest growing areas of energy consumption, mobile IT, off the grid, removing 2.5 - 5.5 tonnes of CO2 per unit per year. PowerBarr has the ability to change the way we charge all of our devices and finally make a switch to renewable power!
Now you have the chance to make this happen! Support PowerBarr as they launch their Kickstarter campaign in hopes of raising funds to build the next two or more units which they will make available for use in various locations across the city, free to use for anyone whose mobile device needs recharging!
The sense of connection with others that people experience when using a PowerBarr in public spaces is worth mentioning. "We've seen a demand for charging stations and we've even seen some solutions starting to be available in the marketplace, but what we were missing is a new and innovative way to keep people connected, while tackling the environmental issues we have created on our planet" said Jusenlijska, one of the cofounders. 
PowerBarr doesn't just stop at helping people stay connected. It reduces the need for traditional, grid-connected power by providing a renewable energy source of electricity completely independent of the grid. To top it all off, the PowerBarr lets everyone actually touch, feel and experience renewable power at their fingertips, bursting the myth of renewable energy being inaccessible for most.
PowerBarr aspires to be an act of compassion and connection, and re-establish society's foundation for success and be a part of creating more connected and caring communities. The dynamic Toronto-based foursome behind PowerBarr includes Colin Campbell, John Wilson, Lorne Spence and Elena Jusenlijska. With PowerBarr stations scattered throughout town, you'll soon be able to charge your devices on the go and take advantage of a new, cool, sustainable option.
Interested in kickstarting this? Visit kickstarter.com for more information and get behind this great initiative.
---